Visual Identity for Fitness: A guide for creating an engaging design for your brand!
Visual Identity is a combination of elements such as shapes, colours and images that enable people to understand and relate to your brand. People have always been drawn to visual content, so it's vital to create an engaging design for your brand that will allow you to show your character and personality.
Fitness related industries, whether they are personal coaches or yoga instructors need to have a number of visual content both offline and online, to ensure that their brand is being communicated in a 360 approach.
Offline & Online Visuals include:
• Updated class descriptions and schedules
• Special event flyers and bulletin announcements
• Seasonal promotional material
• Facebook or Google advertisements
• Monthly member newsletters
• Class package and pricing sheets
• Branded apparel designs
• Print ads for local newspapers and magazines
• Educational infographics for social media
• Website graphics, banners, and icons
Design Pickle – Graphic Design Services For Health, Wellness, And Fitness Content Marketers
These might seem a lot to consider especially if you are a solo practitioner, but regardless of business size and marketing budget, there are a number of free online graphic design services, like Canvas and Crello, that can help you create and retain a consistent visual identity.
Start by reading below our key points to consider when creating your visual identity.
Firstly and most importantly, create a 'Mood Board'; A collection of images, colours, shapes, and any other graphic material that you identify with your brand. These can be images of buildings, landscapes, words, people etc. Think of it as a 'collage of inspiration' for your brand.
Next step is to try and create some rules for your visual identity. These are not specific rules but rather what you have chosen, in terms of shapes, colours, textures etc. Once you identify those rules, stick to them throughout your offline and online marketing. You need to be consistent with your visuals so that people can recognise your brand as easy as possible.
A very important part of your visual identity is your colour palette. Choose the right colours for your brand and make sure that they communicate your strengths in order to attract the right people. "When choosing a colour palette, go for something with 1 to 3 primary colours, as well as an extra 1 to 3 secondary colours that complement and contrast each other." 20 Brilliant And Helpful Graphic Design Tips For Non-Designers
We have gathered below our top suggestions for primary colours from our own experience from working with fitness brands.
"Red is the universal sign of excitement, passion and anger."
99 designs – Logo colors: what's best for your brand?
It catches peoples attention and suggests a feeling of excitement and adrenaline rush, which could work great for you if your are working along those lines.
"Orange is an invigorating, playful color"
99 designs – Logo colors: what's best for your brand?
If you do not want to use red but still want to use a vibrant colour that suggests fun and energy, then orange is for you! Bear in mind that orange is used less often by brands than red so it could mean more chances of your brand standing out.
"It exudes cheer, and your brand will radiate an affordable, youthful energy."
99 designs – Logo colors: what's best for your brand?
If you are a young, fresh company that is passionate about helping people and providing affordable fitness services then yellow could be great fit for you.
"Blue symbolises trustworthiness and maturity."
99 designs – Logo colors: what's best for your brand?
It will suggest that you are a serious business that potentially has experience and skills. Bear in mind that a lot of businesses use blue so make sure to use a more uncommon shade that will make you stand out.
Black is the king of slick, luxurious and modern designs. It suggests both an expertise in the subject while still looking smart and modern. It's easy to use in a variety of media but make sure to combine it with a few more vibrant colours, to make it look less 'jarring'.
Finally pink might look like a surprising choice for a fitness brand but it is considered by millennials as a modern, fresh and playful colour that could work perfectly for your business if your are targeting a younger demographics. Again, make sure to pair it with a few less 'playful' colours to balance it out.
Once you have defined your colour palette, choose your typeface(s). Typefaces are also a form of visual identity as they can appear pretty much everywhere in your marketing, from your website to your social media announcements to your fliers.
There are no specific rules to choosing the right typeface for your brand but there are a few key points to look for; sharp edges suggest a more rigid look while round ones suggest modernity and playfulness. Serif typefaces are usually more traditional and suggest elegance and femininity, whereas Sans-serifs are more modern and are used more commonly nowadays.
Look for typefaces that are clear and readable in both large and small sizes and make sure that if you are using more than one typeface, they all implement each other. Font Squirrel and Typotheque are great sources for a browsing and testing typefaces.
Images are a great form of visual communication, especially because of the amount of detail they can convey. For fitness related industries, images that show movement and bring out a sense of excitement, happiness and satisfaction are usually the most common ones. Knowing your audience will help you gain a clear idea of what kind of imagery to go for but a few key factors to consider when choosing the right images are the context and image treatment.
Context includes any people, animals, objects and landscapes within an image. Make sure that if you are using people in your imagery, they have the right age, race and physical condition based on your target audience. Also the environment in which the image is taken can also imply where your audience is located; a city landscape versus a beach landscape.
Image treatment is considered to be the way an image is stylised and enhanced to suggest a certain emotion. For example bright images with high contrast colours can convert excitement, whereas more pale colours can convey peace and serenity. You might want to add some shapes on the images to highlight some movement or perhaps make the image fade out to suggest calmness.
It's important to take all these suggestions with a pinch of salt and remember to challenge your creativity. Whilst doing research and looking at competitors is the first step, being original and innovative will be the icing on the cake. Don't be afraid to try different types of typefaces and filters, play with different colours and approaches until you get the right combination that expresses your brands character. And remember that this is a learning experience, you will always have room to improve your visual identity so make sure to research and observe from all possible resources.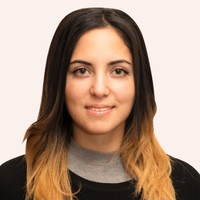 Maria Kyprianou
Digital Marketing Expert
Your content goes here. Edit or remove this text inline or in the module Content settings. You can also style every aspect of this content in the module Design settings and even apply custom CSS to this text in the module Advanced settings.
Morbi vestibulum ut mi in pellentesque. Duis egestas congue neque at accumsan. Quisque sit amet tempus metus, quis aliquet purus. Duis nec tristique sapien. Cras posuere mauris et pretium tempor. Nulla commodo faucibus consectetur. Cras dapibus mi eget mollis faucibus. Donec volutpat ipsum vitae ipsum ultrices, eu laoreet felis ullamcorper. Sed tempor ornare dolor, id luctus velit tincidunt malesuada.